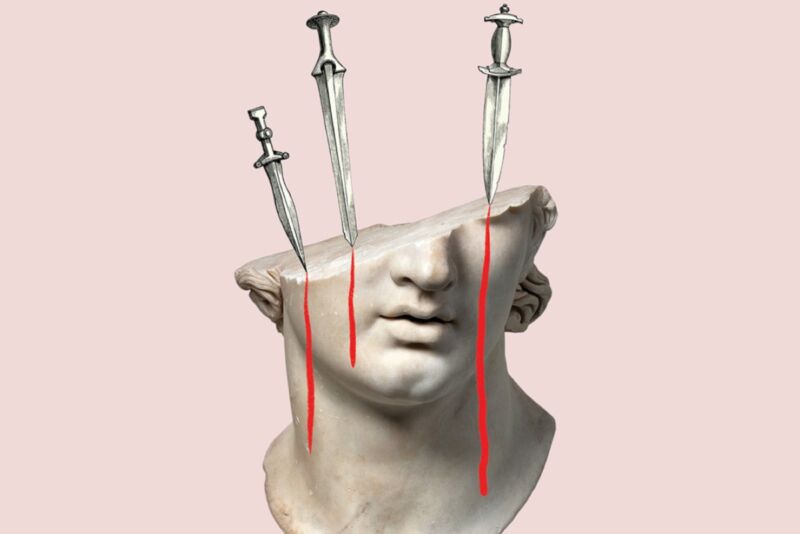 There once was a wealthy Roman man named Vedius Pollio, infamous for maintaining a reservoir of man-eating eels, into which he would throw any slaves who displeased him, resulting in their gruesome deaths. When Emperor Augustus dined with him on one memorable occasion, a servant broke a crystal goblet, and an enraged Vidius order the servant thrown to the eels. Augustus was shocked, and ordered all the crystal at the table to be broken. Vidius was forced to pardon the servant, since he could hardly punish him for breaking one goblet when Augustus had broken so many more.
That servant seems to have been spared, but many others had their "bowels torn asunder" by the eels. And that's just one of the many horrific ways the ancient Romans devised to kill those who displeased or or offended them, from crucifixions and feeding people to wild beasts, to setting slaves on fire, and assassinating Julius Caesar on the Ides of March. Historian Emma Southon covers them all in her wittily irreverent new book, A Fatal Thing Happened on the Way to the Forum: Murder in Ancient Rome, showing us how the people of ancient Rome viewed life, death, and what it means to be human.
Inspiration struck in April 2018, when the notorious Golden State Killer, Joseph James DeAngelo, was arrested—a big day for true crime aficionados like Southon. While chatting with a fellow true crime buff and history teacher, Southon learned that her friend often used true crime as a teaching tool for specific cultural biases—for instance, using the example of Jeffrey Dahmer as a context for discussing homophobia in the 1990s. Intrigued, Southon searched for a true crime book about killings in ancient Rome, only to realize that nobody had written such a book. So she set out to rectify that grievous oversight, and the result is a delightful blend of true crime and ancient history.