A small desktop tripod and a monitor mount are both included with the new UltraSharp, which magnetically attaches to either. [credit:
Dell
]
Dell's new UltraSharp camera takes aim at Logitech's high-end Brio with the same $199 price along with 4K resolution and Windows Hello-compatible infrared sensor. But despite sharing a price tag and many of the same specifications, the two high-end webcams diverge noticeably on features.
Hardware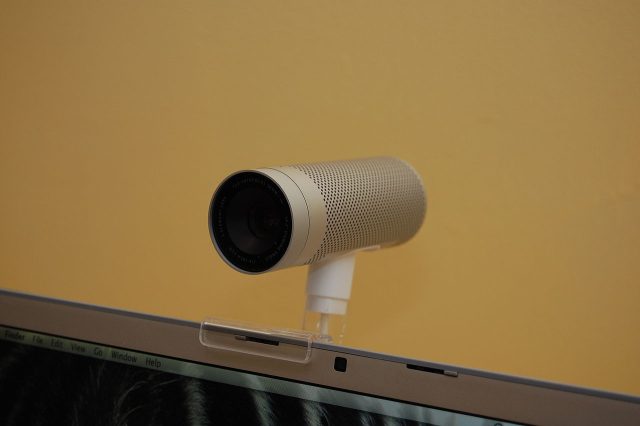 The UltraSharp's most obvious differentiator is its vague physical resemblance to the Apple iSight, a discontinued FireWire camera with a similar "shotgun" chassis orientation. As compelling as that resemblance is for some Apple fans, the similarity between UltraSharp and iSight pretty much ends there.
Under the hood, the UltraSharp features a Sony STARVIS 8.3 megapixel primary optical sensor, featuring automatic focus, automatic white balance and light correction, and full HDR. There's also a Windows Hello-compatible IR sensor for biometric authentication—but, curiously, no microphone. UltraSharp users will need to supply their own mic—which might actually prove convenient for some high-end consumers with studio mics, who will therefore have one fewer useless input to deal with.