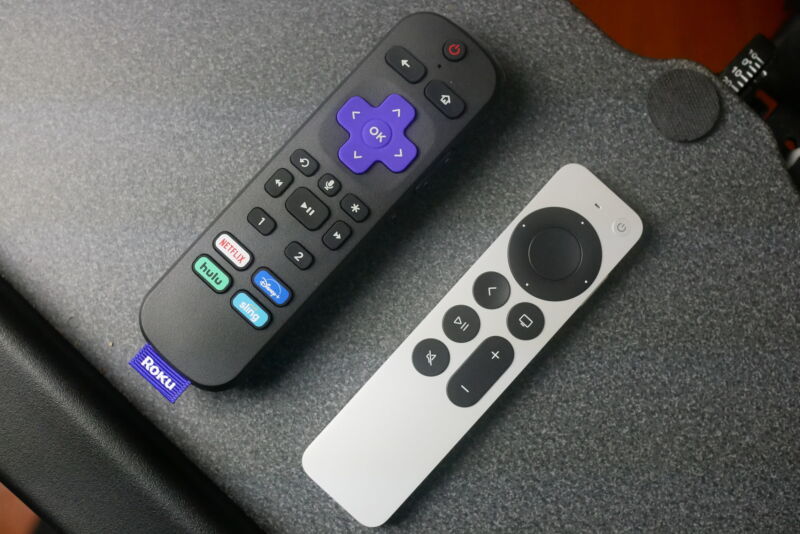 Apple and Roku know that remotes for streaming devices are important. It's why they recently inked a deal to put an Apple TV+ button on Roku remotes going forward. It's also why they've made some thoughtful upgrades to their respective streaming devices in the form of redesigned remotes. Both companies are focused on improving usability and adding features via the remote, rather than retooling the streamers themselves.
Apple's new Siri Remote and Roku's Voice Remote Pro are new devices that existing users can buy to make their streaming experiences much less frustrating (in Apple's case) or easier and more feature-rich (in Roku's). For Apple, a redesign was long overdue. Apple TV remotes have been the stuff of nightmares since the first and only redesign over half a decade ago. Roku's remotes never had that sort of over-engineering problem—instead, they've suffered from the opposite issue, often feeling hollow and cheap while missing some useful functions on all but the highest-end Roku players.
Now, these remotes aren't in direct competition with one another. And in some key areas like price and wide-ranging support, the streamers they control both fall behind the latest Google Chromecast—a device we found preferable not just to those, but to Amazon's Fire TV platform as well. But for anyone who's already using a streaming option from Apple or Roku, scrapping those devices entirely could be a significant waste of money and a general pain depending on their setup. Adding one of these new remotes, though, will improve the experience appreciably.